Fletch counts the cost of his cheating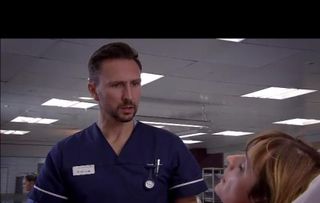 By his own admission, AAU ward manager Adrian 'Fletch' Fletcher has always been a good nurse but 'a lousy husband'. After splitting from wife Natalie following his affair with ED colleague Tess Bateman, his divorce is finalised this week, with solicitor's fees leaving him so broke he's had to work extra hours. Exhausted, the last thing Fletch needs is for Nat to turn up drunk on AAU after having been out celebrating their divorce with her friend, Bex.
When Nat starts telling the entire ward about Fletch's affair with Tess, he gets her a bed, so she can sober up. But he's furious when Nat reveals she's taken a job in Sunderland and plans to relocate with their kids. Later, Fletch confronts Bex, who says Nat isn't moving to punish him but, deeply unhappy as a result of their marriage breakdown, she needs a fresh start. At that moment, Fletch begins to realise the effect his infidelity has had.
Realising the error of his ways, Fletch tells a sleepy Nat he won't try and stop her taking the kids away, but she falls unconscious. Raf then spots bruising on Nat's head and realises it's more than just a hangover. When a scan reveals Nat has a bleed on the brain, she has emergency surgery, leaving Fletch in turmoil. Will Nat survive?
Meanwhile, Sacha's daughter Rachel is still at Holby and, when she throws up, Sacha fears her sepsis hasn't cleared up. When Arthur repeats all of Rachel's admissions tests, he makes a discovery that sends Rachel and Sacha reeling...
Also, Guy initiates a new theatre schedule putting him at odds with Jonny. Fuelled by the knowledge that Jac and Guy are an item, Jonny publicly berates Guy's initiative. But is he letting his heart rule his head?
Get the latest updates, reviews and unmissable series to watch and more!
Thank you for signing up to Whattowatch. You will receive a verification email shortly.
There was a problem. Please refresh the page and try again.