Florence Foster Jenkins - BBC1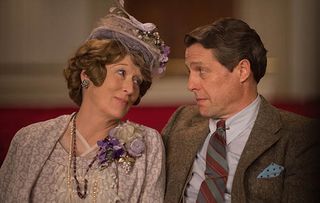 (Image credit: Motion Picture © 2016 Pathe Pro)
Wealthy New York socialite Florence Foster Jenkins (Meryl Streep) has gone down in history as the worst ever opera singer
Wealthy New York socialite Florence Foster Jenkins (Meryl Streep) has gone down in history as the worst ever opera singer.
Streep is pitch-perfect and hilarious as she perfectly mimics Florence's awful voice, but Stephen Frears' tender, warm-hearted biopic reveals her to be far more than a figure of fun.
The film gives us moving insight into the heartaches and tragedies that lay behind the heiress's burning desire to perform and finds something admirable about her pursuit of her musical dreams in 1940s Manhattan.
A typically droll Hugh Grant plays Florence's loyal partner, St Clair Bayfield, the failed English actor who carefully manages her amateur career, and Simon Helberg is her naïve piano accompanist, Cosmé McMoon, who can't believe his ears when he first hears Florence sing.
As the story builds towards Florence's legendary Carnegie Hall concert of 1944, the film proves surprisingly gripping as well as uproariously funny. How bad will Florence's singing prove? How will her listeners respond? And is St Clair's loyalty the product of love or simply repayment for a lavish lifestyle? Frears and his actors juggle these questions with admirable dexterity.
Simultaneously funny and touching, the film hits all the right notes and Streep is a joy.
Get the What to Watch Newsletter
The latest updates, reviews and unmissable series to watch and more!