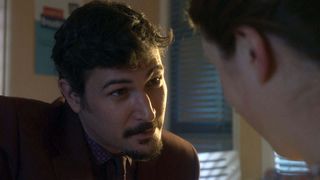 (Image credit: BBC)
Heston find out that Valerie has decided to run against him! Meanwhile, Franc offers Niamh a glass of wine and they toast to saving lives. He then kisses her, which is witnessed by Jimmi; she pulls away wondering about Emma. Franc shrugs and she marches away furiously.
A drunk man enters a dark flat, glances at a coffin, which holds his dead mother. He then spots a bag and empties it to find needles and heroin, then takes the contents of the bag with him as he leaves. Niamh walks past and see that he's conscious but out of it. She takes his pulse but freezes, staring at the motionless man. She calls Franc who encourages her to give him an injection.
A woman flirtingly places her number in Daniel's pocket. But when he reads the note it asks him to call if wants to know about their child. He goes to meet her and she reveals she miscarried his child but now she can no longer have children, which is why her husband walked out on her. Later, Daniel tells Zara he has something to tell her.
Get the latest updates, reviews and unmissable series to watch and more!
Thank you for signing up to Whattowatch. You will receive a verification email shortly.
There was a problem. Please refresh the page and try again.