Gary Canning does Paul's dirty work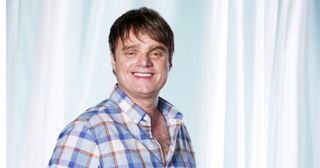 But will Gary play Paul at his own game?
Paul threatens to have Gary's parole revoked unless he breaks into Terese's office to copy her strategy file. But when he hands the file to Paul, it's noticeably thinner, and we realise he's playing his own game against his unscrupulous boss.
Toadie remains worried about Sonya's welfare after the threats around the bike path vote, but Sonya is determined to go ahead with the plan. The Council votes in favour of the path and the loved up Rebecchi's settle in for a night at home, oblivious to the fact that a shadowy figure has just released a snake on their front lawn.
Amy's pleased when Aaron reports that the reaction to her underwear stunt is positive – she's even seen sent a bunch of flowers by an admirer who wants to buy her a drink. Somehow Amy finds herself at the bar, meeting Greg. The date goes well and she's tempted when her date asks her back to his room. But as they get it on in the privacy of Greg's room, a hidden camera records their every move…
Get the latest updates, reviews and unmissable series to watch and more!
Thank you for signing up to Whattowatch. You will receive a verification email shortly.
There was a problem. Please refresh the page and try again.