Coronation Street spoilers: Gary Windass is forced to do Rick's dirty work...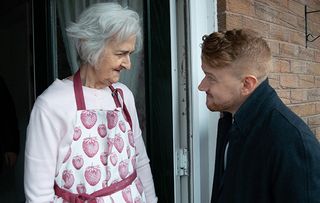 Rick watches from afar as Gary Windass reluctantly knocks on the door of an elderly lady
With Rick's eyes boring into him, Gary Windass reluctantly knocks on the door of a sweet old lady who, hearing he's offering loans, ushers him inside. Will he go through with the scam?
Gary is sickened as Rick spots Alex on the street and effortlessly interests him in a loan, requesting his passport and PIN in order to simplify the repayments. In The Rovers, Gary warns Alex to think twice about taking a loan from Rick but he proceeds with the loan nevertheless. When Rick guesses Gary tries to put him off he warns Sarah and Harry will suffer if he doesn't start playing ball. Later, as Sarah climbs into bed, Gary sobs quietly at the kitchen table.
Daniel looks on with pride as an emotional Sinead rings the bell signifying the end of her treatment. When Daniel suggests they hold a naming ceremony for Bertie, Sinead loves the idea but predicts her family will expect a traditional christening.
Seeing Peter's bewilderment at her erratic behaviour, Carla panics that he's been brainwashed. To make matters worse, she hears Rick's whispered threats to Gary in the backyard of No.1 and her paranoia soars. Toyah's relieved to see Imran making progress, but when Imran collars Wayne for news of the accident report, it's clear Rana's death is still very much on his mind.
Second episode of Coronation Street this evening.
Get the latest updates, reviews and unmissable series to watch and more!
Thank you for signing up to Whattowatch. You will receive a verification email shortly.
There was a problem. Please refresh the page and try again.