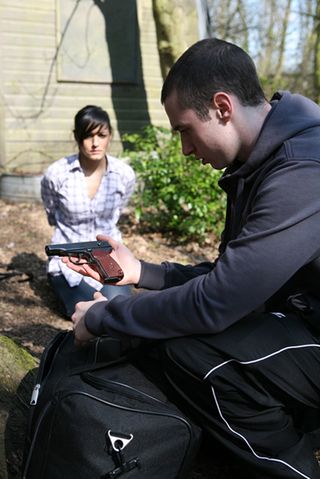 Gaz pretends to be Theresa when he texts Anita from Theresa's stolen phone - 'Theresa' wants to make up with her friend. An oblivious Anita is lured to the woods, but as he planned, it's Gaz who turns up. He threatens a terrified Anita - this is payback for the time she hit him and left him for dead. Trapped and scared, Anita suddenly realises that Gaz has a gun. Zak tries to warn Anita that she may be in danger. But a furious Michaela misreads his interest in her, accusing him of fancying her. Lauren struggles to conceal her upset about her split with Gaz - she's convinced he's not all bad. But as a vengeful Gaz holds Anita hostage, it might be that Lauren has had a lucky escape. Rose mocks Des's pathetic plans to attack Ravi and warns him that he'll need to up his game if he wants to have any impact. Later, a masked assailant attacks Ravi in Relish, armed with a can of tear gas. Also; Jack urges Steph to talk to Tom about her cancer and what it means for their small family. Steph steels herself and sits him down for a chat. Click here to watch whatsontv.co.uk's weekly soaps video preview, the Soap Scoop
Get the latest updates, reviews and unmissable series to watch and more!
Thank you for signing up to Whattowatch. You will receive a verification email shortly.
There was a problem. Please refresh the page and try again.