Gennie runs - and crashes - and dies?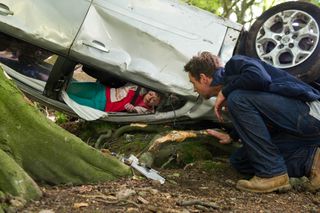 Debbie and Cameron are going to talk to Chas - but not to share Cameron's confession. That will be for Gennie to do - if she can get away. She gets out of Debbie's house but Cameron and Debbie see her and realise she knows too much. New driver Gennie runs for her new car, with Debbie and Cameron hot on her heels. She races out of the village and Cameron and Debbie race after her. Panicking, Gennie loses control of her car and swerves off the road and down a hill. At the bottom, Gennie lies motionless and Cameron looks at her. Is she dead? At the top of the hill, Debbie desperately rings for an ambulance…
Nikhil is desperate to find Gennie. She's supposed to be with him, celebrating buying the B&B and, instead, he's sitting on his own with a happy Val and Eric, worried about where Gennie could be. But Nikhil's worries have only just begun…
Sean's worried about the trouble his lie has caused. Kerry didn't steal the charity money but Dan believes she did because Sean says so. That's the end of Dan and Kerry then. Sean can't have that on his conscience, though, and tells Dan the truth - about the money and about how it was Kerry who decked Robbie, not Sean.
Get the What to Watch Newsletter
The latest updates, reviews and unmissable series to watch and more!