Greg walks in on Max and Tanya!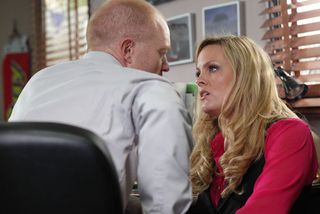 (Image credit: BBC)
Max invites Tanya to the car lot for some afternoon passion. They're in the middle of tearing each other's clothes off when Greg knocks on the door! Tanya hides under the desk. Greg notices lipstick on Max's face and a pair of tights on the floor. Max and Tanya have a narrow escape when Greg assumes Vanessa is under the desk and leaves them to it! Ronnie (opens in new tab) stays the night with Roxy and Michael (opens in new tab). Jack leaves her a voicemail message. Ronnie asks Michael to tell Jack that she will call him back, but Michael goes back on the promise. Jack needs a clean shirt. Michael heads to Jack's to fetch one. Michael sifts through Ronnie's clothes and sprays her perfume. Jack asks the Brannings to write character statements for Ronnie. Jack finds Ronnie at the flat and they vow to fight on together. Meanwhile, Michael has creepily bought Roxy the same perfume as Ronnie. Roxy is not impressed! Janine has had to spend the night in the chippy. Eddie is interested in Janine's locket and persuades her to sell it to him for 50 pounds. Ricky notices that Janine's locket is missing. Janine lies she sold it to cover Lydia's funeral costs. Ricky feels guilty and offers to get it back for her. Janine is still homeless and asks Billy to put her up.
Get the latest updates, reviews and unmissable series to watch and more!
Thank you for signing up to Whattowatch. You will receive a verification email shortly.
There was a problem. Please refresh the page and try again.