Hard to Please OAPs – ITV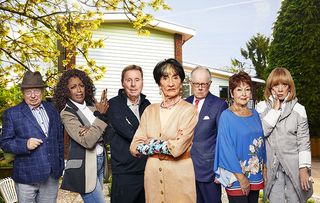 EastEnders favourite June Brown is one of eight celebrity pensioners road-testing high-tech gadgets in fun new ITV series Hard to Please OAPs
EastEnders favourite June Brown is one of eight celebrity pensioners road-testing high-tech gadgets in fun new ITV series Hard to Please OAPs
Question: How many celebrity pensioners does it take to get Alexa to work?
Answer: three – who end up verbally abusing the smart speaker!
This fun six-parter, entertainingly narrated by Jennifer Saunders, sees eight celebrities – John Sergeant, Sheila Ferguson, Harry Redknapp, June Brown, Michael Whitehall, Ruth Madoc, Amanda Barrie (all pictured above) and Lionel Blair – try a range of cutting-edge gadgets.
But when self-confessed innovation-haters June, Harry and Michael test Alexa's ability to explain how to make scones, it's a recipe for disaster.
Meanwhile, John, Lionel and Ruth head out in an electric car, which the mischievous crew haven't charged…
Albert Square's Dot Branning is never afraid to speak her mind, and June, who plays the EastEnders legend, is equally forthright about modern technology!
Here, in an exclusive chat with TV Times, June, 92, tells us why she's still wary…
Are you hard to please?
I didn't used to be.
I was very placid in my youth and didn't disagree with people but, as you get older, you get harder to please.
I like things to be right, and if they're not, I have to say something!
So what do you make of modern technology?
I'm technology illiterate. I don't bother with computers, although I have an electronic reader.
I can play CDs and I can use an ordinary mobile.
But with mobiles now, all these funny things come up when I just want to make calls.
Then there's text speak, like, 'C U 2moro'. It's like hieroglyphics.
Apart from Alexa, what other gadgets do you try?
Some are a waste of money.
There was a pooper-scooper vacuum, but you can do things quicker yourself with a plastic bag.
We also tried a robotic vacuum cleaner but it couldn't get up on to the carpet.
It was like a horse refusing the jump!
I did like a fitness mat we tried, though, and balancing on an exercise plate.
Amanda and I helped each other stay upright, but I leant to one side pretending to be a motorbike going round a bend!
TV Times rating: ****
Get the latest updates, reviews and unmissable series to watch and more!
Thank you for signing up to Whattowatch. You will receive a verification email shortly.
There was a problem. Please refresh the page and try again.