Harry Potter and the Deathly Hallows: Part I - ITV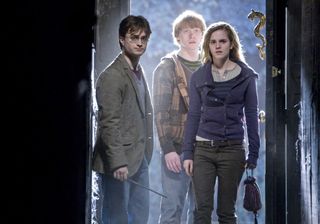 (Image credit: Jaap Buitendijk)
The riveting penultimate film in the epic wizarding world saga. 4/5 stars
With evil wizard Voldemort in the ascendant, Harry, Ron and Hermione decide to go it alone in the penultimate episode of Harry Potter's epic film saga - JK Rowling's sprawling final book having been cannily split in two.
So, no return to the comforting haunts of Hogwarts, and no time for jokes, japes or games of Quidditch, which will be a disappointment for some and a relief for others. It means, though, that Daniel Radcliffe, Emma Watson and Rupert Grint are exposed on screen as never before, but the young actors rise to the challenge with as much pluck as their characters.
With the friends on the run from the forces of evil, trying to track down the magical objects on which Voldemort's power depends, the mood is dark - making this easily the grimmest movie to date. It's also the slowest moving, stranding the squabbling fugitives in a tent for long stretches. But there are bursts of excitement, including Harry's thrilling escape on board the sidecar of Hagrid's flying motorbike; and moments of great beauty, from the bleak but stunning landscapes in which the trio take refuge to a haunting animation sequence illustrating the origins of the Deathly Hallows (which recalls the silhouette films of the great Lotte Reiniger).
In places, the film is surprisingly affecting, with a heart-rending death scene and a touching interlude of mutual consolation in which Harry and Hermione dance awkwardly together to Nick Cave's 'O Children'. Not the best Potter film, but a sturdy springboard none the less for the climax to come.
Get the latest updates, reviews and unmissable series to watch and more!
Thank you for signing up to Whattowatch. You will receive a verification email shortly.
There was a problem. Please refresh the page and try again.