Has Laurel lost the baby?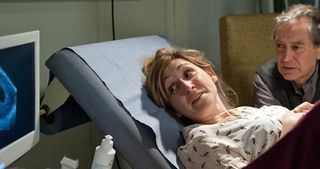 *Second episode*
In a panic, pregnant Laurel rushes to get to hospital to find out why she's started bleeding. She's terribly worried that she's lost the baby but the sonographer is unable to confirm the status of her pregnancy. Though the scan reveals a sac in Laurel's womb, there's no sign of a heartbeat – but there could still be a baby. Laurel's advised to try to sit it out. Back at home, Laurel's devastated.
Paddy's hastily packing to get home to his wife not realising she's come to the hotel to surprise him! Paddy and his secret lover Tess, who's just been dumped by the guilt-ridden vet, freak when Rhona arrives at their hotel room door. Shoving Tess into the bathroom, Paddy manages to get Rhona down to the dining room for lunch. But just as Paddy reckons he's got away his betrayal, Rhona spots Tess and invites her to join them for a drink! Paddy's heart sinks as Tess accepts, leaping at the chance to make her lover squirm. Will Tess out Paddy's infidelity over a glass of champers?
At Home Farm, Lawrence warns Nicola to get her act together when he finds her minding baby Carl while she's working!
Get the latest updates, reviews and unmissable series to watch and more!
Thank you for signing up to Whattowatch. You will receive a verification email shortly.
There was a problem. Please refresh the page and try again.