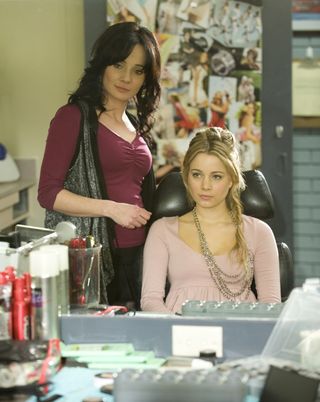 (Image credit: Channel 5)
Tash is gearing herself up to go to her hair appointment so she can meet her aunt Amelia, and as she's about to leave, she gets a call from the salon saying Amelia has been called out to a fashion shoot. Disappointed but not put off, Tash gets Chris to pretend to be a model on the shoot, needing the address. As they wait for a bus, Andrew pulls up needing Chris to work on a car right away and Tash encourages him to go, assuring him she'll be fine on her own. When she arrives at the shoot, Tash quickly identifies her aunt and can't help but stare at her. Thinking she's one of the models, Amelia ushers Tash in to get her hair done, and not sure what to say, Tash goes along with it. With Tash out, Michael gets a shock when he picks up a voicemail from someone Tash has contacted regarding her grandparents. He knows she's been searching for them. Sophie is stropping around the house in full heartbroken teenager mode, and Kate's not impressed. When Lou returns from his travels, bearing gifts for the girls, Sophie all but throws it back in his face, totally uninterested.
Get the latest updates, reviews and unmissable series to watch and more!
Thank you for signing up to Whattowatch. You will receive a verification email shortly.
There was a problem. Please refresh the page and try again.