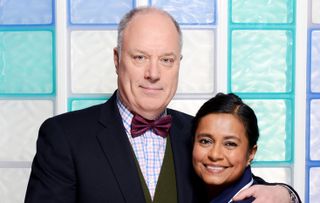 (Image credit: BBC)
Can Heston save the lives of a young couple after they take the Viper drug?
Heston goes to the police station to find out more about the drug Viper. Before he leaves home, he gets into an argument with Ruhma, who says he's only interested in the drug because it affects one of his rich and privileged friends. Heston leaves in a furious mood and turns up at the station demanding answers from Rob.
While there, Rob gets a call, a young homeless couple are in need of urgent help after taking the Viper drug. Heston goes with Rob to see if he can help the couple - but will they get there in time?
Also, Emma has her first guests at her HomeBnB, an elderly couple from Spain. Emma takes their luggage up to the room and shows them around. The couple give Emma the surprise of her life, however, when they reveal a secret…
Get the What to Watch Newsletter
The latest updates, reviews and unmissable series to watch and more!
Tobi Oredein is an award-winning women's lifestyle journalist, media entrepreneur and international public speaker based in London, who focuses on race, feminism, beauty politics & popular culture. Tobi has been commissioned by Buzzfeed, British Glamour, Grazia, Elle UK, Fader, The Debrief, The Independent, The Pool, Stylist, Vice and others. She has also interviewed public figures such as Ryan Coogler, Ava Duvernay and Sir Trevor McDonald.