The Hobbit: An Unexpected Journey - ITV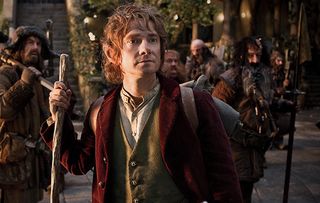 (Image credit: James Fisher)
In the first of Peter Jackson's trilogy, Martin Freeman's hobbit Bilbo Baggins is persuaded to undertake a perilous quest
In the first of Peter Jackson's trilogy, Martin Freeman's hobbit Bilbo Baggins is persuaded to undertake a perilous quest.
Home-loving Bilbo is persuaded by wizard Gandalf (Ian McKellen) to help a group of dwarves reclaim their lost kingdom. When the dwarves turn up mob-handed at the hobbit's cosy home, kicking off a night of boisterous revelry, it takes the best part of an hour to get beyond Bilbo's front door, but things improve when the journey finally gets underway, pitching Bilbo into perilous encounters with trolls, goblins, orcs and, scariest of all, the treacherous Gollum.
While far too long, there is much that is good about this slick film. Freeman is perfectly cast, McKellen gives Gandalf a wry, whimsical twinkle and Andy Serkis performs motion-capture marvels as Gollum - the scene in which Bilbo first encounters him and bests him in a duel of riddles is the film's highlight.
Get the latest updates, reviews and unmissable series to watch and more!
Thank you for signing up to Whattowatch. You will receive a verification email shortly.
There was a problem. Please refresh the page and try again.