Holby City spoilers: Is Hanssen onto Gaskell over Roxanna's death?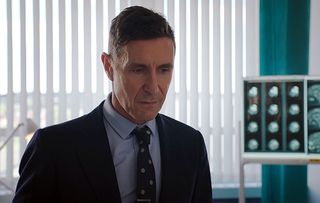 (Image credit: BBC)
Following Roxanna MacMillan's shock death, is Professor John Gaskell having an attack of conscience?
Holby fans were left stunned recently when Professor John Gaskell killed his friend and colleague Roxanna MacMillan via lethal injection, amid fears she'd expose his risky medical practices relating to his precious stem cell trial.
As Roxanna's funeral is held this week, grieving surgeon Henrik Hanssen (Guy Henry) tries to support the medic through his own loss, unaware of Gaskell's involvement in their friend's death. But there's no time for mourning as Jac Naylor (Rosie Marcel) needs their combined expertise on a case.
A builder has sustained life-threatening injuries in an accident with some scaffolding poles, and Gaskell and Hanssen must work together with Jac to save his life. Gaskell, however, becomes visibly irritated in theatre as Hanssen reminisces about their wonderful friend and skilled surgeon, Roxanna.
He then gets annoyed as Hanssen mentions Roxanna's involvement in the Julie Bloom case, which was the catalyst in Gaskell's drastic decision to silence her. Gaskell's always strived to do his best by his patients – but as the builder develops severe bleeding, Hanssen's suspicious when Gaskell questions whether it's worth saving him.
As the builder continues to bleed out, the Professor physically tries to stop Hanssen from saving him, saying they should let the man 'die with dignity'. Jac's furious and orders Gaskell to leave theatre!
Later, concerned about his friend's mental state, Hanssen asks him if there's anything he can do to help and he reminds him that he can't bring Roxanna back. Will Hanssen realise these are the words of a guilty man?
Holby City continues on Tuesdays at 8pm on BBC1.
Get the latest updates, reviews and unmissable series to watch and more!
Thank you for signing up to Whattowatch. You will receive a verification email shortly.
There was a problem. Please refresh the page and try again.