Holby City spoilers: Don't look now... Serena kisses Leah!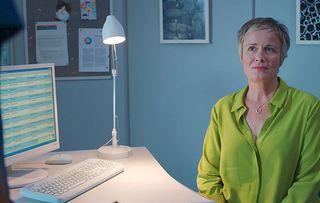 (Image credit: BBC)
Thrown together through work, the consultant and the junior doctor grow much closer…
When junior medic Leah Faulkner first arrived on AAU, the chemistry between her and consultant Serena Campbell was obvious. And, this week, the pair gets a little too close for comfort.
Missing her partner Bernie, who's running a trauma unit in Nairobi, Serena's been trying to send her a loving email but is struggling to find the right words.
Unfortunately, Serena has to put her personal life aside when duty calls. With the hospital already under inspection following recent events, Serena's day goes from bad to worse when patient Saul Vernon (Martin Marquez) turns up on AAU – he's had four fingers chopped off by his wife Vanessa, who suspects him of cheating!
Serena's hopeful they can re-attach the digits – but when Vanessa dumps them in the rubbish out of spite, Leah (Hannah Daniel) offers to help Serena by searching through bags of clinical waste to find them.
Leah's obviously keen to impress but when another patient takes a turn for the worse and Serena has to perform an emergency procedure on the ward, Leah bottles out of assisting her.
Later, Leah goes to Bernie's office to apologise and Serena reassures her of what a wonderful doctor she is… but they're both stunned when one thing leads to another and they end up kissing!
Knowing she's crossed a major line, will Serena come clean in her email to Bernie?
Meanwhile, a crisis with a patient causes turmoil for Meena and Leah, while Mo saves a weary and defeated Nicky from throwing in the towel.
And, with Essie's help, will a devastated Hanssen realise he can find healing through his Holby family?
Get the latest updates, reviews and unmissable series to watch and more!
Thank you for signing up to Whattowatch. You will receive a verification email shortly.
There was a problem. Please refresh the page and try again.