Holby spoilers: Meena jeopardises Nicky's chances!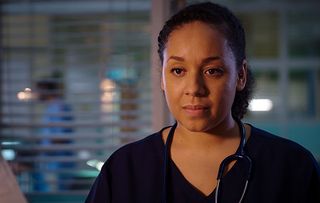 (Image credit: BBC)
Meena sabotages Nicky's hopes of working with Gaskell….
As young doctors Nicky McKendrick and Meena Chowdhury try to work out where they fit in professionally at Holby, their friendship is well and truly put to the test. As Nicky (Belinda Owusu) begins her first day working under feisty Frieda on Darwin, Meena (Salma Hoque) is thrilled to officially be part of Professor Gaskell's neuro research team.
When patient Luke Rich is admitted to Darwin with pain and sickness following a deep-sea dive, it seems like a straightforward CT case. But when a seemingly trivial observation by Nicky enables Professor Gaskell to diagnose Luke with a neurological condition instead, he invites her to assist him in the man's urgent surgery.
As the junior doctor on neuro, Meena is clearly put out and persuades Nicky to turn down the opportunity as she's only just started work on Darwin. Nicky agrees and entrusts Meena to explain things to Gaskell. Meena, however, goes behind her friend's back and asks Gaskell if SHE can assist him instead!
When Nicky realises Meena's sabotaged her chances of working with Gaskell, she's livid. Meena apologises – but can Nicky be sure she's a friend not a rival?
Also, Xavier's dismayed when Serena puts him in charge of Lofty's nan Sheilagh's care to teach him a lesson in humility. But does Xavier's arrogance hide a big secret? And how soon before Sheilagh spots it?
Get the latest updates, reviews and unmissable series to watch and more!
Thank you for signing up to Whattowatch. You will receive a verification email shortly.
There was a problem. Please refresh the page and try again.