Hollyoaks spoilers: Leela exposes Ste and Ryan's secret affair at Amy's memorial!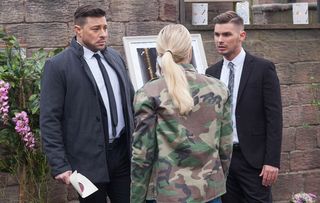 The net closes in on killer Ryan as a furious Leela exposes his secret affair with Ste
Ste's daughter Leah has already rumbled her dad's affair with Ryan and been blackmailing him. With her mum, Amy's, memorial due to get underway, she plans to expose their secret romance by showing everyone the screenshots of their text messages, but right at the last minute, she has a change of heart.
But it's too late. Leela has already seen the incriminating evidence and has no such qualms!
She storms over to the memorial and makes a huge scene in front of everyone, including DS Thorpe, and publicly blows the lid off Ste and Ryan's affair.
Is the copper also about to discover that Ryan has lied about his alibi for the night of Amy's death?
Elsewhere Adam is struggling after getting sucked into his dad Glenn's murky world and helping him hide Trigger's body! Disgusted by what he's got himself into, he turns to booze and starts drinking heavily much to Maxine's fury.
Meanwhile, Jesse gets a visiting order from Goldie in prison plus things hot up between Simone and Shane.
But with Shane still ferrying drugs about for Glenn, is Simone about to find herself mixed up in the dodgy dad's criminal activities?
Get the latest updates, reviews and unmissable series to watch and more!
Thank you for signing up to Whattowatch. You will receive a verification email shortly.
There was a problem. Please refresh the page and try again.