Hollyoaks spoilers: AWKWARD? Will Scott Drinkwell's date with with doctor Levi end in disaster?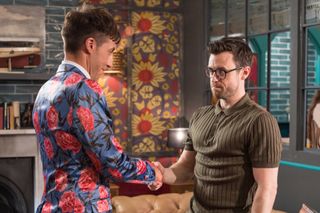 Scott Drinkwell agrees to go on a date with doctor Levi Rochester but will Levi recognise Scott from his drag act?
Hollyoaks wewcomer, doctor Levi Rochester (Cerith Flinn) has previously taken a shine to Scott Drinkwell (Ross Adams) and asked him out on a date.
However Levi, still has no idea that Scott is the same man he saw dressed up in drag in The Dog who he quite rudely rebuffed.
Levi hates drag acts and was previously seen making a hasty exit when Scott approached him at the bar, dressed in his wig and glamorous make up.
Open-minded Scott later agreed to a date with Levi but realising Levi doesn't recognise him from The Dog, has decided to keeping quiet about being a drag artist. As Levi and Scott meet up for their date they seem to be hitting it of.
Will Scott broach the subject of his alter-ego act or stay quiet in order not to scare Levi off and could this date be headed for disaster?
Elsewhere James Nightingale (Gregory Finnegan) is losing his mind over Harry's case. The anxious lawyer is worried it will be impossible to prove Harry is innocent of the car crash which nearly killed Grace Black, without Sadie as his alibi.
Harry (Parry Glasspool) assures James he has a lead on Sadie, his ex-girlfriend who he was with at the time of the horror smash, and promises he will track her down today but James is not so sure. With all the tangled history between them, James is struggling to trust Harry and when he spots his boyfriend's phone, he secretly tries to unlock it to find out exactly what Harry has been up to.
Meanwhile, a guilt-racked Mercedes McQueen (Jennifer Metcalfe) who has been secretly taking drugs again, is nervously preparing for her stepson, Max's visit. Will she be able to clean up her act in time for Max, who has been living with his Aunty Nicole Owen (Ciara Janson)?
Plus Nancy Osborne (Jessica Fox) is desperately trying to cheer up Sinead O'Connor (Stephanie Davies) in the wake of all the recent turmoil with Laurie. She suggests they start a girls only book club but Sinead doesn't seem too sold on the idea!
Hollyoaks is shown weekdays on C4 at 6.30pm with the next episode following on E4
Get the latest updates, reviews and unmissable series to watch and more!
Thank you for signing up to Whattowatch. You will receive a verification email shortly.
There was a problem. Please refresh the page and try again.