Hollyoaks spoilers: WEDDING HELL? Will bride Maxine Minniver's lies wreck her BIG DAY?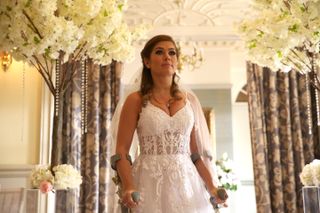 It's time for Maxine Minniver and Damon Kinsella to tie the knot in Hollyoaks but is Maxine's dream wedding about to be derailed when her MASSIVE deception looks set to surface?
It's finally the day of Maxine Minniver and Damon Kinsella's wedding in Hollyoaks but Maxine is feeling jittery and it's not last minute nerves!
The guilty bride knows that Sienna Blake (Anna Passey) and Doctor Levi Rochester (Cerith Flinn) both know her terrible secret – that she's been faking her 'terminal illness' all this time in order to manipulate Brody into marrying her!
Will either of them blow the whistle or will they stay quiet….for now?
Sienna meanwhile is still planning to do a runner from the hotel venue with the twin children she is convinced are her babies, Sophie and Sebastian.
Maxine (Nikki Sanderson) was appalled to realize what her friend was plotting but with the wedding service looming she has got more important matters to attend to!
As Bridezilla, Maxine, gets ready to walk down the aisle she's determined this is going to be the best day of her life.
She looks stunning in her dress but as the ceremony gets underway and she makes her way down the aisle, her frock gets caught in her crutches.
Her waiting groom, Damon (Jacob Roberts), immediately races to her rescue and sweeps her up in his arms to carry her down the aisle.
As the ceremony progresses, Maxine is grinning from ear to ear but is tense when it comes to the crunch moment and the registrar turns to the congregation and asks if anyone knows of any reason why the couple can't get married.
Maxine's stomach is churning as she waits anxiously, knowing that both Sienna and Doctor Levi know that she has been faking her illness all this time. Will one of them speak up and could the wedding come crashing down around them?
Elsewhere in Hollyoaks, following her jealous outburst over her boyfriend Mitchell's stripping, Cleo McQueen (Nadine Mulkerrin) is given a stern talking to by her gran, Nana (Diane Langton) who tells her she needs to get over herself.
Meanwhile Mitchell himself tries to convince Cleo that his stripping is nothing more than an act and that she is the perfect woman for him.
Plus Ollie Morgan (Aedan Duckworth) and his girlfriend Brooke Hathaway (Talia Grant) have thrown a party on The Love Boat to try and raise some cash to buy festival tickets.
The party is in full swing when their friend Imran Maalik (Ijaz Rana) surprises them by telling them he's managed to get free tickets from his big brother, Sami so they are definitely going to the festival! Let the fun begin!
Hollyoaks is shown weekdays on C4 at 6.30pm with the next episode following on E4
Get the latest updates, reviews and unmissable series to watch and more!
Thank you for signing up to Whattowatch. You will receive a verification email shortly.
There was a problem. Please refresh the page and try again.