How the NHS Changed Our World - BBC2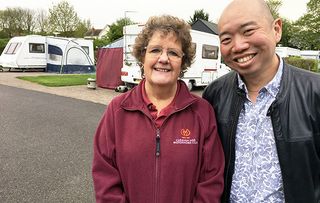 (Image credit: BBC/Martin Friend)
A five-part documentary highlighting the pioneering work carried out at some of our leading NHS Trust hospitals across the countryA five-part show highlighting the pioneering work carried out at some of our leading NHS Trust hospitals
A five-part show highlighting the pioneering work carried out at some of our leading hospitals.
We begin at the Royal Papworth Hospital, Cambridge, where the first successful heart transplant was performed in 1979.
The surgeon who did that operation, Sir Terence English, chats to presenter Dr Giles Yeo about the opposition he faced and how heart transplants were initially thought to be a waste of time and money. Sandy Law (pictured above with Yeo) is the longest-surviving heart transplant patient, having had her first operation in 1982.
Surgeon Steven Tsui (below) conducted a second successful heart transplant on Sandy and said, 'We are delighted that Sandy has done so well, and has gained 35 years of life since her first heart transplant at Papworth.
'She is particularly lucky to have received two heart transplants - of the more than 1,400 patients who have had a heart transplant at Papworth, only 32 have been suitable for a second transplant.' he says.
We also meet comic Eddie Large, whose life was dramatically changed 15 years ago by a heart transplant at Papworth.
'Every day I think about the donor family,' he says.
Tomorrows programme continues with Dr Hilary Jones examining how Birmingham Children's Hospital has revolutionised the treatment of sick children and how the training of paediatric doctors and nurses has transformed over the 70 year hisotry of the NHS.
Continues nightly until Friday.
TV Times rating: •••
Get the latest updates, reviews and unmissable series to watch and more!
Thank you for signing up to Whattowatch. You will receive a verification email shortly.
There was a problem. Please refresh the page and try again.