'I can save you Annabelle!'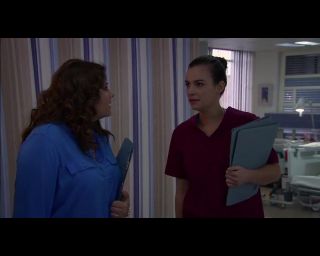 Zosia was devastated last week to learn that her mentor Annabelle, who was researching an experimental procedure to cure people with brain tumours, had an aggressive brain tumour herself. Zosia's pleased, this week, when her father, neurosurgeon Guy Self – who knows nothing of Annabelle's condition – says he'll give her research the go-ahead for human trials if they can find the right candidates. But when an up-to-date brain scan reveals Annabelle's tumour has grown, Zosia can't see the point in looking for trial patients when the perfect candidate is at Holby – Annabelle.
But Annabelle's against the idea - if her personal interest in the research were to come out, its validity could be questioned - and insists that the best way forward is to secure patients for the trial so that she, in turn, may benefit. Unfortunately, Guy's forced to call a halt to the trial through lack of funding. He says he'll review it in six months but Zosia knows time is running out for Annabelle, especially when Zosia has to cover for her in theatre...
Realising she's now putting patients at risk, Annabelle packs her things to leave Holby but Zosia begs her to stay. Wanting Annabelle to receiving the life-saving treatment immediately, Zosia offers to carry out Annabelle's operation in secret. Will Annabelle let Zosia risk her career to help her?
Meanwhile, Mo's avoiding Adele, still annoyed she told Clifford that Mo was his long-lost daughter. Keen to get back in Mo's good books, Adele decides to call Clifford and ask him to give Mo another chance. Will her actions prove a help or a hindrance?
Also, aware that Guy's neuro funding has been rescinded, Raf sees an opportunity to impress new CEO Henrik Hanssen and possibly secure a piece of the funding pie. But when Raf's patient's dog decides to run amok in the hospital, has Raf missed his chance?
Get the latest updates, reviews and unmissable series to watch and more!
Thank you for signing up to Whattowatch. You will receive a verification email shortly.
There was a problem. Please refresh the page and try again.