Ian clashes with Sharon over Bobby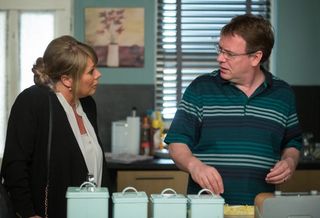 (Image credit: BBC/Kieron McCarron)
Ian and Jane are hopeful that Bobby may come home when Ritchie reveals if he pleads guilty at the hearing, he could be back by the end of the day. After learning the news, Sharon reels, confronting Ian. As she insists that Bobby deserves to go to prison Kathy overhears, laying into Sharon for attacking Ian. Driven to distraction by the shouting, Ian snaps. When he admits he agrees with Sharon, everyone is left stunned.
Mick and Linda take Ollie for his check up. When the doctor can't give them any concrete answers, a frustrated Mick storms off. Meanwhile, Belinda has had a letter from Neville asking for a divorce. When she learns that Neville is on his way to negotiate the settlement, Belinda asks Mick to be there for back up. Quickly seeing through Neville's lies, Mick threatens to out Neville, who is forced to give in to Belinda's demands. Returning home feeling better, Mick is instead stunned when Sylvie arrives!
Martin is angry after Bex tells him that there's nothing going on between her and Shakil, only to find them together later. Infuriated by her dad, Bex snaps, telling Martin to get used to it. Meanwhile, Kim enlists Dot in the Salsa show to distract her from her worries.
Get the latest updates, reviews and unmissable series to watch and more!
Thank you for signing up to Whattowatch. You will receive a verification email shortly.
There was a problem. Please refresh the page and try again.