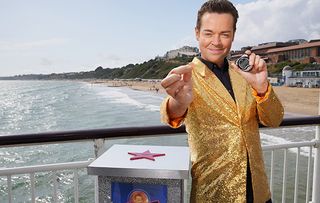 (Image credit: ITV)
Stephen Mulhern puts on his sparkly gold jacket as his much-loved Saturday Night Takeaway game show, In for a Penny, gets its very own spin-off on ITV
Stephen Mulhern puts on his sparkly gold jacket as his much-loved Saturday Night Takeaway game show, In for a Penny, gets its very own spin-off on ITV
In for a Penny, the hilarious game-show segment of Ant & Dec's Saturday Night Takeaway, has become so popular that it's now been given its own spin-off.
The seven-part series sees host Stephen Mulhern – and his sparkly gold jacket – hitting the streets again, visiting towns and cities across the UK, challenging members of the public to a series of silly games.
All they need is a penny to play to win a grand!
Stephen's a real natural with the public and as the fun and games kick off in Cardiff for episode one, Stephen pops up in petrol stations and shopping centres, enticing people to play games such as Pump It Up, Mum's the Word and Check It Out.
Each episode culminates in the hilarious In for a Penny, which sees players take part in five rounds of fun games – including the 'famous' Stopwatch Game.
But who will win £1,000?
TV Times met up with Stephen, 42, for an exclusive interview at ITV's HQ in London to quiz him on the new series…
How thrilled are you that In for a Penny now has its own series?
I'm over the moon!
This was Ant and Dec's idea and they think it could be the best thing on telly.
People want to have a laugh watching TV and forget all the serious stuff, and In for a Penny is just good family entertainment.
The idea of being able to say to people, 'All you need is a penny to win a grand' is great.
It's so simple, it's genius!
If I wasn't hosting this show, I'd be absolutely gutted.
Why do you think the show works?
I think it's because it's not contrived.
It's not set up; what you see is what you get.
It's all about the public but we haven't cast these people; we literally just stop them on the street, get them playing these silly games and it just seems to work.
We have some of the most eccentric characters on this show.
Working with the public, I love the fact that anything can happen.
Do you like being able to help people in some small way?
Yes.
We had one girl who'd made it through to the end of the Stopwatch Game, where players must stop the clock at an exact time in order to win the jackpot of £1,000.
When I asked her beforehand what she'd do with the money, she told me, 'My sister's pregnant and she really wants a nice pram.'
As I told her she'd won the jackpot and all the confetti exploded and the crowd cheered, the girl burst into tears of absolute joy, which showed just how much she needed that money.
When you see those moments, you think to yourself, 'That's incredible.'
TV Times rating: ****
Get the latest updates, reviews and unmissable series to watch and more!
Thank you for signing up to Whattowatch. You will receive a verification email shortly.
There was a problem. Please refresh the page and try again.