Indiana Jones and the Last Crusade - BBC2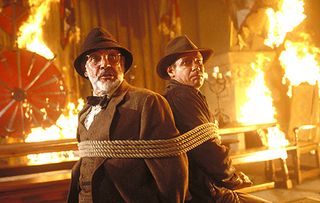 The constant twinkle in Sean Connery's eye sets the tone of this, the funniest and fastest-paced Indiana Jones movie
The constant twinkle in Sean Connery's eye sets the tone of this, the funniest and fastest-paced Indiana Jones movie. As Professor Henry Jones, he's taken prisoner by the Nazis; as his son, Indiana, Harrison Ford gets to meet Hitler, to fly a plane from an airship, to fight on top of a speeding tank, and even to meet an ancient Knight.
The opening sequence, with River Phoenix playing Indy, explains how he got that famous hat, and from then on it's from one rib-tickling crisis to the next with Ford and Connery - with some crucial help from Denholm Elliott and Alison Doody - both looking as though they're enjoying every minute of it.
The end result is a thrilling rollercoaster ride of a movie which sees Indy back on his Raiders of the Lost Ark form after the hugely disappointing second film in the franchise, Temple of Doom.
Get the latest updates, reviews and unmissable series to watch and more!
Thank you for signing up to Whattowatch. You will receive a verification email shortly.
There was a problem. Please refresh the page and try again.