Jacqui realises the identity of Rhys's mistress!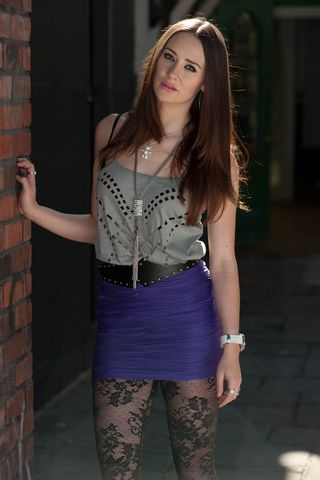 The day after the funeral, Jacqui clears out all of Rhys's stuff. She goes to Rhys's grave but when she spots a single red rose on it, she remembers something and realises who Rhys's mistress was - Cindy! She goes to Atwell's to confront her, but before Cindy can defend herself, Sinead jumps in to confess, leaving everyone stunned by her revelation. Sinead is petrified of what Jacqui is going to do to her, while Cindy is floored that she wasn't Rhys's only affair. It finally dawns on a crazed Jacqui that Sinead's carrying Rhys's baby. As Sinead makes a bee-line for the village, Jacqui, Tony and Cindy are in hot pursuit. Jacqui drags Sinead to the McQueen's - she's going to tell Bart the truth about the baby - but when they arrive, Bart has romantically surrounded himself in fairy lights and proposes to Sinead. Dodger is suited and booted for a carol concert with Patrick, but he gets his fair share of ribbing from the Savages. Liberty decides to play peace-keeper with her father and brothers and surprises them by inviting Patrick and Sienna for dinner. Meanwhile, Theresa is excited about Joel being released from prison, however, when he reaches the McQueen's front door, he turns the other way. He takes up his place at Chez Chez, but is reluctant to see an expectant Theresa.
Get the latest updates, reviews and unmissable series to watch and more!
Thank you for signing up to Whattowatch. You will receive a verification email shortly.
There was a problem. Please refresh the page and try again.