Karen and Rob Hollins welcome their first foster child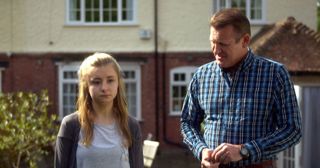 (Image credit: BBC)
Karen and Rob Hollins realise that being foster parents comes with huge responsibilities
Karen and Rob Hollins meet their first foster child, Hannah - who seems withdrawn. At lunchtime, Karen's uneasy when Hannah just won't stop eating. Later, Karen and Rob try to interest Hannah in playing a game but she takes herself off to her room, leaving Karen disheartened.
Jimmi goads Al to give up drink and Al accepts, on one condition - the drinks are on Jimmi at the end of the month. Emma suggests that if he's really keen, he could join her in a new boxing class. Ayesha thinks it sounds fun, she's in and Jimmi says he'll go along, if that's what it takes to get Al to commit. Al finally caves – he'll do it - it'll be a great opportunity to punch Jimmi on the nose!
Mrs Tembe turns up at Valerie's house, she has a proposal for her: she'd like Valerie to come back to work. Working at the Mill was the happiest time of her life - of course she'll come back!
Daniel comes to the aid of patient who's been sacked for bringing drugs into the workplace. Daniel believes he's clean and sets out to help him prove it.
Get the latest updates, reviews and unmissable series to watch and more!
Thank you for signing up to Whattowatch. You will receive a verification email shortly.
There was a problem. Please refresh the page and try again.