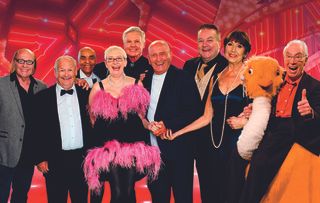 (Image credit: ITV)
After weeks of rehearsals, the nine showbiz legends finally take to the stage in Last Laugh in Vegas
Nine of our best-loved showbiz legends, including Cannon and Ball, Su Pollard and Bernie Clifton, have given us fun, laughter and a few tears in this reality series, which has followed them preparing for a one-off spectacular in Las Vegas.
After weeks of rehearsals, the series concludes tonight with the famous faces putting the finishing touches to their performances.
After the main show on ITV, turn to ITV3 to see our brave stars finally take to the stage at The Orleans Hotel and Casino in Last Laugh in Vegas: Showtime. Will the stars have the last laugh in Vegas?
Thank you for signing up to Whattowatch. You will receive a verification email shortly.
There was a problem. Please refresh the page and try again.