Laurel's dirty secret rebounds on her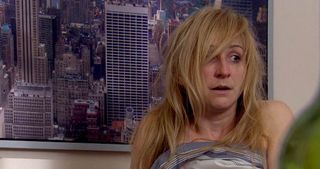 *Hour-long episode*
Dazed and confused, Laurel comes to and realises she's in a stranger's house, having slept with him. As the hazy hideous memories of the night before come flooding back along with her hangover, Laurel is desperate to get out of there and get home. But it's not that easy as she's lost her purse so she nicks his wallet! 
Back in Emmerdale, Laurel has been registered a missing person and Harriet is raking through her police contacts to help hunt her down. When the alcoholic mum eventually returns home, she quickly rattles off a garbled excuse. As Marlon is caving in and considering giving Laurel another chance a knock at the door changes everything.
It's the guy from last nightand he wants his wallet back! With her sordid secret out in the open, Laurel later makes a confession to her ex, Ashley, and admits she's an alcoholic.
For some unknown reason, Brenda is surprised when devoted Bob suggests they lend his darling daughter Carly money to buy David's shop. Meanwhile, Chrissie is also interested in the business – but David makes it plain he won't be selling to the White family.
She's back in the village, but Betty's miffed as no one seems to care. As the locals hastily throw a fancy dress party, the OAP makes a shock announcement…
Get the latest updates, reviews and unmissable series to watch and more!
Thank you for signing up to Whattowatch. You will receive a verification email shortly.
There was a problem. Please refresh the page and try again.