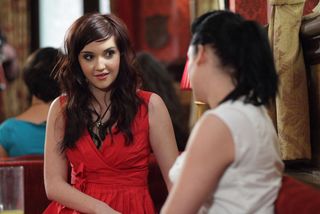 (Image credit: BBC)
Whitney teases Lauren about Ryan. Lauren blurts out that she kissed Ryan at Janine's party. Lauren leaves the house looking stunning to tempt Ryan and it seems to work when he can't take his eyes off her. Lauren gets drunk in the club. She tries to seduce Ryan and is gutted when he dismisses her. An angry Max takes a drunk Lauren back to Tanya's, where Tanya's bag is knocked over... and Greg sees Tanya's contraceptive pills! Lola eavesdrops on Abi and Jay's conversation. Jay tells Abi they'll have the Arches to themselves tonight and Abi offers to get protection. Lola tells Jay to call her when Abi 'bottles it'. Lola teases Abi about her lack of experience and she feels hurt. Lola turns up at the Arches and tells Jay says she can give him what he wants. Abi arrives, and Lola leaves. Jay says Lola threw herself at him. They kiss tenderly, but Abi confesses she's not ready to have sex. They argue and Abi dumps him. Carol overhears that Eddie has been helping Liam bunk off school and she tells him to stay away from both her and Liam. Eddie decides there's nothing for him in Albert Square and he's going to move back to Upton Park.
Get the latest updates, reviews and unmissable series to watch and more!
Thank you for signing up to Whattowatch. You will receive a verification email shortly.
There was a problem. Please refresh the page and try again.