Is Lily going to give birth?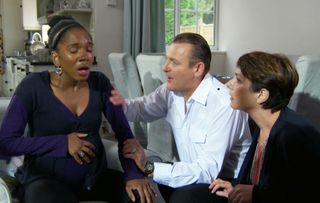 (Image credit: BBC)
Austin visits Lily and her health takes a turn for the worse...
Lily is excited and anxious about Austin coming visit her, whilst staying at the Hollins' house. When Austin arrives the pair are ecstatic to see each other and discuss baby names. The pair are on cloud nine until Rob turns up and, immediately, there's tension between Rob and Austin. Rob and Austin eventually get into a full-blown argument and Austin storms out but, as this all happens, Lily doesn't feel right and it quickly becomes clear that she needs to see a doctor…
Meanwhile, DI Stanton heads to the Remand Centre, where La Toya says that Braydon knows where she is. Stanton does his best to assure La Toya that she's in the safest place and that dropping out of the case will cause more harm than good to her safety. Will La Toya believe him?
When DI Stanton leaves, La Toya sits with Jackie who has been looking out for her in the Remand Centre and the pair are chatting away until La Toya sees Linda. Panicked, La Toya knows Linda is watching her, so Jackie warns Linda to stay away from La Toya.
Later, Jackie stands guard as La Toya goes to the toilet. Outside, Linda passes something to Jackie. Jackie goes into the toilet and leaves moments later. Inside the toilets, La Toya is bleeding heavily after being stabbed…
Also, Al and Ayesha are united in their fight to not work extra hours, which results in an argument between them and Daniel. Daniel's irritation grows even more when DI Stanton visits Zara in the hope of convincing her to testify…
Tobi Oredein is an award-winning women's lifestyle journalist, media entrepreneur and international public speaker based in London, who focuses on race, feminism, beauty politics & popular culture. Tobi has been commissioned by Buzzfeed, British Glamour, Grazia, Elle UK, Fader, The Debrief, The Independent, The Pool, Stylist, Vice and others. She has also interviewed public figures such as Ryan Coogler, Ava Duvernay and Sir Trevor McDonald.
Get the latest updates, reviews and unmissable series to watch and more!
Thank you for signing up to Whattowatch. You will receive a verification email shortly.
There was a problem. Please refresh the page and try again.