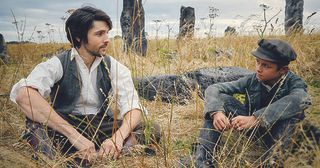 (Image credit: BBC)
A strange new mystery baffles Nathan as the spooky drama continues…
You'd really not want to spend much time in the village of Shepzoy, would you?! After the vicar's daughter started behaving extremely oddly last week, it's the turn of young villager Charlie, who keeps seeing and hearing visions of a group of mysterious young boys. Nathan's (Colin Morgan) paternal instinct comes out in force as he does his best to get to the bottom of things in order to help Charlie and his mum Agnes (The A Word's Pooky Quesnel). But it's not long before Nathan's own past, and that of the village itself, returns to haunt him again along with other inexplicable occurrences. Meanwhile, Charlotte is continuing apace with her plans for the farm, but she's also desperate to get pregnant. Can her maid Gwen advise?
Thank you for signing up to Whattowatch. You will receive a verification email shortly.
There was a problem. Please refresh the page and try again.