Has Lofty got a love rival?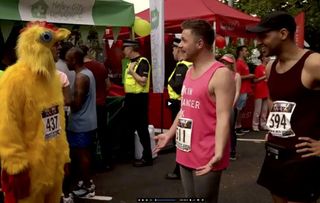 Nurse Lofty is crushed when Dom introduces his new boyfriend...
Lofty's feelings for Dom have intensified recently and, just as he's about to try and move their relationship forward, he suffers a humiliating blow. As the staff gather for the Holby half marathon charity race, Lofty's embarrassment at being the only one dressed up in a daft chicken costume is made worse when Dom turns up with his hunky new boyfriend Freddie!
When a car loses control and ploughs into the runners, Lofty's terrified that Dom's been injured. But it's Freddie who's been hit and, when Lofty sees how distraught Dom is, he tries to warn Dom from getting too involved with Freddie as he's only known him a week.
Unfortunately, Lofty's interfering in Dom's new relationship looks like it may backfire. Will he end up ruining his chances for good?
It's a big day for Fletch as he finds himself competing with Essie and Donna for the Director of Nursing job. He soon faces a real-life managerial challenge when a lack of theatre space prevents an anxious single father from returning home to his kids. Can Fletch convince the formidable Jac Naylor to work with him and, in turn, prove he's the right man for the job?
Also, Guy's determined to be a good mentor to Zosia and challenges his daughter with a complicated neuro case. When his therapy-inspired soft approach fails to get the best out of her, Guy questions whether she switched her specialism from CT to neuro for the right reasons. Is Zosia, however, the one with the problem?
Get the latest updates, reviews and unmissable series to watch and more!
Thank you for signing up to Whattowatch. You will receive a verification email shortly.
There was a problem. Please refresh the page and try again.