What is Lofty's shameful secret?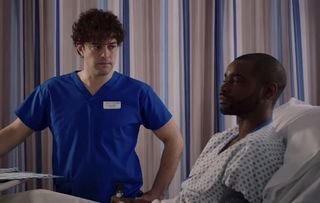 The nurse's dark past is exposed by an old friend…
When Ben 'Lofty' Chiltern returned to Holby last week, little was revealed about what he'd been up to while he'd been away. This week, however, the nurse gets an unexpected blast from the past. Lofty's thrown when a patient, Lenny, is admitted onto Keller with severe stomach pains.
It's evident they know each other, but Lenny seems far from pleased to see Lofty – and the reason for his hostility is soon revealed when Lenny blurts out in front of Dom and Sacha that Lofty had got engaged to his sister, Alice, but ended up jilting her at the altar on their wedding day!
When Alice herself then turns up on the ward, Lofty knows he has to make peace with his past if he's to move on with his new life back at Holby. But is abandoning his bride-to-be the only skeleton in his closet?
Meanwhile, still recovering from the death of patient Trixie, Mo gets a shock when she's offered demoted Jac's job as head of CT. Mo gladly accepts her new role as gets used to being the woman in charge. But in light of recent events, will Mo decide that now might not be the right time for a promotion?
Also, a hungover Jasmine arrives sheepishly on AAU, fearing the worst as she has no recollection of who she may have 'drunk-dialled' the night before. Did Jasmine accidentally let slip to friend Morven something she wishes she hadn't?
Get the latest updates, reviews and unmissable series to watch and more!
Thank you for signing up to Whattowatch. You will receive a verification email shortly.
There was a problem. Please refresh the page and try again.