For the Love of Dogs: India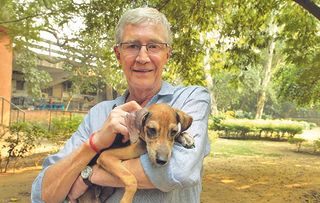 As Paul O'Grady continues to get chummy with canines in Delhi, he hits the streets to meet people caring for the city's pooch population
As Paul O'Grady continues to get chummy with canines in Delhi, he hits the streets to meet two people caring for the city's pooch population.
The comedian is amazed that twice a day, every day, IT worker Nadir and his wife Pia cook for and feed street dogs – and they also have dozens of waifs and strays at their home, too.
Back at Friendicoes rescue centre, the presenter comes across Toto, a poorly pup looking for his very own Dorothy.
Fortunately, the stray, who has a skin infection, finds her in the form of volunteer Natalie, who comes from Blackpool.
The pair have become inseparable, so much so that the young Brit is taking her new best friend home with her when she returns to the UK. Awww.
Thank you for signing up to Whattowatch. You will receive a verification email shortly.
There was a problem. Please refresh the page and try again.