Mandy's surprised to see Ricky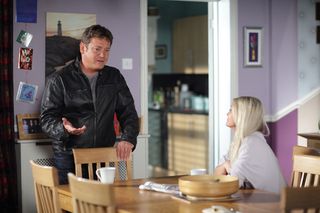 Ricky returns to the Square. Pat and the family are relieved, as they are hopeful his bonus will help Pat save the house. Ricky sees Mandy on his return and they go to the cafe to catch up. Ricky is trying to avoid the family. Ricky confesses to Mandy that he's lost all his money and doesn't know how to tell everyone. When he finally arrives at Pat's to a welcome home party, Pat quickly realises that Ricky won't be able to help her out. Shirley confronts Heather about the envelopes, but realises they've been planted on her. Rose's son Andrew arrives in the Square to see Heather and defends her from Shirley's wrath. Roxy says Jack was enjoying seeing Shirley have a go at Heather. Phil decides that Jack is definitely his stalker. Jack is furious when he discovers his car has gone missing. It's later returned, crushed into a cube! Lauren persuades Anthony to buy her and Whitney lunch and drinks in the Vic. Lauren flirts with Tyler and they kiss. Whitney's worried about Lauren's behaviour. Lauren makes plans to go back to Tyler's and accuses Whitney of being jealous. Lauren blurts out her mum has cancer so she can do what she likes.
Get the latest updates, reviews and unmissable series to watch and more!
Thank you for signing up to Whattowatch. You will receive a verification email shortly.
There was a problem. Please refresh the page and try again.