Maria and Marcus kiss! (VIDEO)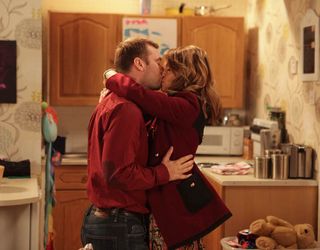 After lying to him about Marcus not being keen on a move to London Maria's guilty when Aiden throws away the job offer letter. Later, Maria tells Audrey she thinks she's fallen in love with Marcus. Audrey's sympathetic as Maria tells her about their kiss, but Audrey reminds her that Marcus is with Aiden and she's with Jason. Maria fishes the letter out of the bin. Finding the letter Marcus confronts Aiden. Aiden tells him he's turned it down for him after Maria's advice. An irked Marcus tackles Maria and as the pair begin to row emotions escalate and Marcus demands to know the truth. Maria realises there's only one way she can answer this! Gail feels terrible as Lewis hands her money to pass to Audrey. Realising his feelings for her mum are genuine Gail suggests Audrey talks to Lewis again. Audrey tries to return the money, but Lewis won't accept it - he's leaving Weatherfield. Audrey tells Gail she'll never forgive her. Ken and Deirdre agree to put the Wendy episode behind them. Over a romantic meal the couple reflect on their marriage and how much it means to them. Also, Mandy offers her services as chef as at the Rovers; Ryan persuades Stella to let him and Steve put a pub football team together.
Get the latest updates, reviews and unmissable series to watch and more!
Thank you for signing up to Whattowatch. You will receive a verification email shortly.
There was a problem. Please refresh the page and try again.