Mary Berry's Quick Cooking – BBC2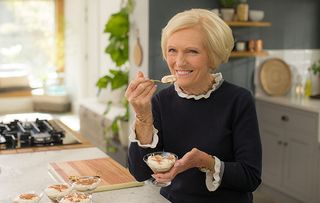 (Image credit: BBC/Endemol Shine UK/Craig Harma)
Mary Berry prepares dishes that deliver on flavour but save on time, inspired by the cuisine and culture of places she visits in a new six-part series, beginning with Rome.
Mary Berry demonstrates recipes that deliver on flavour but save on time, inspired by the cuisine and cooking culture of places she visits in a new six-part series, beginning with Rome.
It's the holy grail of home cooking: quick, tasty meals that require next to no effort but look like gourmet sensations.
That's the thinking behind Mary Berry's brand new series, and she's kicking off with a trip to the perfect place: Rome.
Hopping on the back of a Vespa in the glorious Italian sunshine, Mary goes to watch handmade pasta being rolled out (hardly a bit of quick food prep, but fun to see!), tastes pizza served in a cone and even tries some sea urchin!
Thankfully, Mary also gets cooking herself, giving us her top recipes for delicious pasta and dreamy tiramisu.
As a famous chimney sweep once said: 'It's a jolly holiday with Mary!'
TV Times rating: ****
Here, Mary, who turns 84 later this month, shares her favourite moments from the series
Why do a series on quick cooking?
That's the way I live! I'm a very busy person with my children and grandchildren, so I have to be organised with cooking. I love a quick, inexpensive meal that you can do in about 30 minutes. I don't include ingredients that you couldn't get in a supermarket in Scunthorpe – I'm not doing the show for the rarefied people who have lots in their larder. Most people don't need juniper berries sitting on their shelves…
What do you cook for dinner if you're in a rush?
Well, I usually look in the fridge and see what needs to be used up; we don't like waste. If I'm cooking spontaneously, it will usually be pasta or a sausage bake. Or perhaps an 'all-in-one' dish with chicken and veg that can go straight in the oven. If I've got people round for supper and a glass of wine, then everything's always in one dish. I serve up the food, then the dish goes in the sink; I fill it with water and everywhere looks tidy again!
You're off to Rome for the first episode, and we even see you having a ride on a Vespa!
That was fun – what a perfect way of seeing Rome! I loved the city, it was very hot and, gosh, I made some good bruschetta. It was so interesting going round the markets, and I went to see pasta being made with two ladies who have been doing it for 40 years. Making your own pasta definitely doesn't count as fast cooking, but I do it with my grandchildren sometimes. I think we've all grown to love pasta and it's very healthy. When my son did the London Marathon, they advised them to live on it!
As TV Times Highlights Editor I get to hear about all the latest TV shows coming soon. Here at TVT HQ we are in the privileged position of selecting the best programmes from across all the channels and streaming platforms. Our mission is to make it easier for our readers to decide what to watch - and give them lots of choice of genres - all the latest shows, plus some nostalgic choices we call hidden gems, too. My career began with a postgraduate degree in periodical journalism (ahem, yes old school!) in 1991 and I've worked in TV media since 2000.
Get the latest updates, reviews and unmissable series to watch and more!
Thank you for signing up to Whattowatch. You will receive a verification email shortly.
There was a problem. Please refresh the page and try again.