Missing Flight: MH370: Inside the Situation Room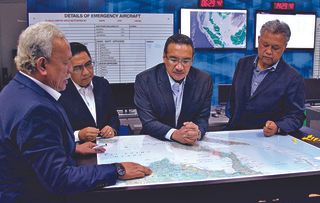 Malaysian Airlines has gone through some turbulent times recently, with two major catastrophes happening in the same year
Malaysian Airlines has gone through some turbulent times recently, with two major catastrophes happening in the same year.
In July 2014, flight 17 from Kuala Lumpur to Amsterdam was shot down over Ukraine, killing 298 passengers and crew.
But just a few months earlier, a MAS Boeing, flying from KL to Beijing, disappeared without a trace over the Indian Ocean – on board were 239 people.
This documentary, narrated by Hugh Bonneville, reveals for the first time what unfolded in the days following the disaster, with senior officials, including the Malaysian PM, giving their personal accounts, describing what went on behind closed doors.
Thank you for signing up to Whattowatch. You will receive a verification email shortly.
There was a problem. Please refresh the page and try again.