Mrs Brown's Boys Christmas Special – BBC1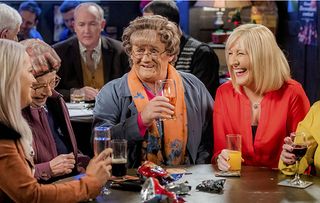 (Image credit: BBC Studios/Alan Peebles)
The festive season arrives once again in Mrs Brown's household, and Father Damian has organised a Christmas decoration contest as a fundraising initiative
In the first of this year's specials (a second airs on New Year's Day), Mrs Brown has a new Christmas tree and a whole host of problems.
We also see Agnes' competitive side when Father Damian organises a Christmas decorating contest.
And Mammy is further driven to distraction by her new Wi-Fi assistant, Maggie – the Irish version of Alexa!
TV Times rating: ****
If you think the holidays are stressful in your house, prepare to feel better, as nothing compares to the chaos at the Brown's!
Here, in an exclusive interview with TV Times, Brendan O'Carroll, 63, tells us why Christmas really is the most wonderful time of the year…
What's in store for the Brown family this Christmas?
Father Damien [Conor Moloney] is trying to raise a few bob for the local football team by holding a Christmas decoration competition. If the local team don't qualify for the football finals all the money goes to the church – and, of course, they've never qualified!
Agnes decides to enter, but tries to pull a stunt by recommending nemesis Hillary [Susie Blake] as a judge. Judges can't enter, so that's her out!
What could possibly go wrong!
Agnes has forgotten this means Hillary is now a judge! When she comes to Agnes's house, she says it's not a Christmas extravaganza because she can't see a tree.
That's when Agnes reveals her Christmas tree!
Do you enjoy the challenge of creating a new Christmas tree stunt every year?
Writing Mrs Brown's Boys is still magic to me – I write it down and it pops up in front of me when we go to the BBC!
The tree has become a bit of a tradition. Regardless of the story, the first thing I do is sketch out the tree and send it to the boys at the Beeb. I spent the Summer thinking, 'What am I going to do with the Christmas tree this year?' I'm sorry I started it!
What can you tell us about this year's tree?
When I drew it up, I didn't know whether we'd be able to do it or not. But the BBC said we could, so long as we filmed the New Year's Day episode first and the Christmas one second [they are normally recorded in sequence] as it will take an extra week to fit the Christmas tree I wanted in!
I got the idea from looking at Christmas decorations. I don't want to reveal any more, but I think it works incredibly well – it's one of the best yet!
Get the latest updates, reviews and unmissable series to watch and more!
Thank you for signing up to Whattowatch. You will receive a verification email shortly.
There was a problem. Please refresh the page and try again.