Will Mrs Tembe continue to hide her relationship?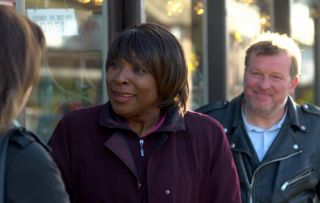 (Image credit: BBC)
Or will she try and keep her new romance a secret?
After spending a romantic weekend with JJ, Mrs Tembe is walking on cloud nine. Later, she receives a phone call from JJ to discuss a new bike he's on the verge of purchasing. Wanting to play the dutiful girlfriend, she arranges to meet him at the showroom. After leaving, Mrs Tembe and JJ bump into Zara. Will she introduce JJ as her boyfriend?
Meanwhile, Valerie's still under caution after being reprimanded for her gossiping; however, her new professionalism is driving Karen crazy. Although, unbeknown to Karen, Valerie's struggling to stay professional. So Valerie decides to channel her gossiping ways into something else…
Tobi Oredein is an award-winning women's lifestyle journalist, media entrepreneur and international public speaker based in London, who focuses on race, feminism, beauty politics & popular culture. Tobi has been commissioned by Buzzfeed, British Glamour, Grazia, Elle UK, Fader, The Debrief, The Independent, The Pool, Stylist, Vice and others. She has also interviewed public figures such as Ryan Coogler, Ava Duvernay and Sir Trevor McDonald.
Thank you for signing up to Whattowatch. You will receive a verification email shortly.
There was a problem. Please refresh the page and try again.