Neighbours spoilers: Elly Conway discovers Shaun Watkins's true identity!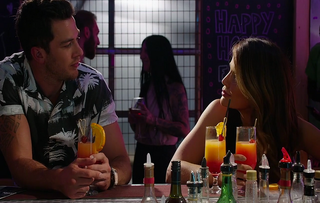 Elly finally comes face-to-face with her secret one-night stand Shaun and realises her baby daddy is Finn Kelly's brother!
The last time Elly Conway saw Shaun Watkins, she was sneaking out of his hotel room after a drunken one-night stand.
However, she didn't know his name or that Shaun is actually the half-brother of Finn Kelly, the man now appearing in court for making the lives of Elly's family a misery!
When Elly is called to give evidence at Finn's hearing, she's alarmed when she spots Shaun in the crowded court room and recognises him as her one-night stand and now baby daddy of her unborn child!
In a panic, fearing her husband Mark Brennan will get closer to discovering Elly cheated on him, she flees from the courtroom just as the judge calls for her to give her statement!
Meanwhile, Erinsborough locals including Gary Canning and Ned Willis are confident Finn will finally get what's coming to him and be sent to prison for a long time as the hearing gets underway.
However, when it comes time for Finn's ex-fiancee Bea Nilsson to take the stand and give evidence, she starts to waver...
Bea has waited so long to see Finn brought to justice. But after the recent turn of events will she side with her aunt Susan Kennedy and decide Finn does deserve another chance? What will Bea do?
Neighbours continues weekdays at 1:45pm and 5:30pm on Channel 5
Get the latest updates, reviews and unmissable series to watch and more!
Thank you for signing up to Whattowatch. You will receive a verification email shortly.
There was a problem. Please refresh the page and try again.