Neighbours spoilers: Poppy and Kirsha fall out!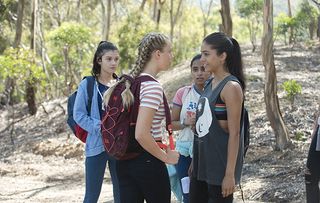 Will Poppy's cruel behaviour to Kirsha be exposed?
Students, teachers and parents take part in Erinsborough leadership camp in the bush. Everyone is throwing their support behind Kirsha as they know the trip could be a huge milestone for her. However, on the trip, Poppy bullies Kirsha. Kirsha tells Jimmy and reveals that Poppy has been cruel to her for months. Will Jimmy break up with Poppy and how will the situation affect Kirsha?
Things are awkward between Elly and Liam after their break-up. Things become even more tense when Elly discovers an email on Liam's phone with a job offer in New York. Is Liam planning to leave Jimmy again?
Also, Sheila is regretting her decision to walk out of her job. She goes back to Paul and tries to fight for it, but Paul tells her it's too late and she has burned her bridges. After pleading for her job, Sheila opens her heart to Paul in an attempt to get her job back. Will it work?
Tobi Oredein is an award-winning women's lifestyle journalist, media entrepreneur and international public speaker based in London, who focuses on race, feminism, beauty politics & popular culture. Tobi has been commissioned by Buzzfeed, British Glamour, Grazia, Elle UK, Fader, The Debrief, The Independent, The Pool, Stylist, Vice and others. She has also interviewed public figures such as Ryan Coogler, Ava Duvernay and Sir Trevor McDonald.
Get the latest updates, reviews and unmissable series to watch and more!
Thank you for signing up to Whattowatch. You will receive a verification email shortly.
There was a problem. Please refresh the page and try again.