Neighbours spoilers: Shane Rebecchi attacks Gary Canning!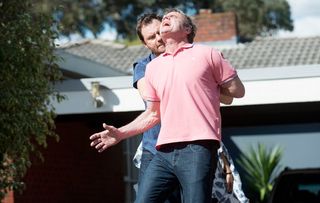 (Image credit: Channel 5)
Gary is still trying to make amends for accidentally landing neighbour Dipi in hospital. But her hubby Shane is not in the mood to forgive and forget...
Gary Canning still feels dreadful for accidentally attacking his neighbour Dipi Rebecchi and landing her in the hospital.
Gary has been so on edge over shifting stolen goods for his ex-acquaintance Kev McNally and his dodgy criminal friends, that he mistook Dipi as an intruder lurking around the coffee hut he runs and tackled her to the ground.
Luckily for Gary, Dipi isn't holding a grudge and when he pops over to Number 32 to see how Dipi's recovery is going since she was released from hospital, it's not long before the neighbours are enjoying some yummy desserts and talking about their shared love of cooking.
However, when Dipi's husband Shane comes home and finds Gary in the house, he loses his cool and things soon get heated...
Elsewhere in Ramsay Street, student Xanthe Canning is still all mixed-up on what to do about university.
She'd been hoping to study medicine at the local university. But her exam results are only good enough to get her into a university miles away in Toowoomba.
Xanthe's friend Piper Willis is trying to convince her not to give up on her dreams. Plus her grandmother Sheila and dad Gary don't want to see her settle for less either.
Sheila has a secret plan, involving Xanthe's ex-boyfriend Ben Kirk, which could change her mind. But will Sheila's plan work?
Neighbours continues weekdays at 1:45pm and 5:30pm on Channel 5
Get the latest updates, reviews and unmissable series to watch and more!
Thank you for signing up to Whattowatch. You will receive a verification email shortly.
There was a problem. Please refresh the page and try again.