Neighbours spoilers: Who sent Susan Kennedy the creepy gift?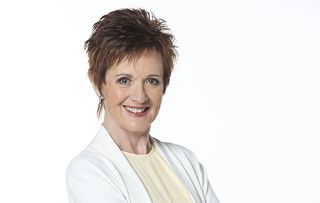 Susan is determined to solve the mystery of the cryptic gift she has received. Will she agree to meet with the mystery gift-giver?
Susan Kennedy confides in sister Liz Conway about the mysterious photo album which was left outside on the Kennedy's front doorstep. But who left Susan the photo album - filled with pictures of twisted Finn Kelly - and why?
Susan decides to take the photo album to the police but warns Liz not to share the news with daughters Elly and Bea - who were previously both romantically involved with Finn - for fear of spooking them.
However, desperate to build bridges with her daughters, especially Bea, will Liz betray Susan's confidence and share the creepy developments?
Elsewhere in Ramsay Street, Aaron Brennan and his husband David Tanaka are still thinking about a future that possibly includes children.
However, the couple get an unexpected addition to the household of the canine kind, when they find themselves looking after the late Val Grundy's dog, Reg, since a search for Val's next-of-kin has so far turned up nothing.
First with their pet goldfish and now Reg, Aaron and David will soon have brushed-up on their parenting skills!
Meanwhile, Paul Robinson and his son Leo Tanaka discuss the trouble they are having with bad gal Delaney Renshaw. Neither want to give into Delaney's blackmail demands. But it looks like they may have no choice.
So when Delaney once again demands Leo break up with girlfriend Terese Willis and commit to her instead, will Leo be forced to go ahead and break Terese's heart?
Neighbours continues tomorrow at 11:20am and 6:30pm on Channel 5
Get the latest updates, reviews and unmissable series to watch and more!
Thank you for signing up to Whattowatch. You will receive a verification email shortly.
There was a problem. Please refresh the page and try again.