Neighbours spoilers: WHO attacked Paul Robinson?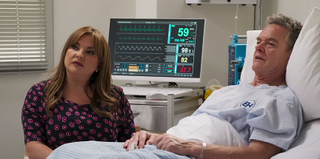 Paul is rushed to hospital after being violently attacked. But the question is: whodunit? Did Roxy witness more than she's letting on?
Moments after Paul Robinson (played by Stefan Dennis) is attacked down by the lake on Neighbours, Roxy Willis (Zima Anderson) finds the hotel boss lying unconscious and quickly alerts the emergency services.
But the question is, what was Roxy doing down by the lake? Didn't she have her bags packed, ready to leave Erinsborough?
As Paul's fiancee Terese Willis (Rebekah Elmaloglou) keeps an anxious vigil beside his hospital bed, Paul is convinced it was his hated neighbour Gary Canning (Damien Richardson) who attacked him. After all, Gary just threatened him after discovering both Paul and his own mum Sheila (Colette Mann) were trying to ruin his relationship with fiancee Amy Williams (Zoe Cramond).
Can Gary account for his whereabouts at the time Paul was attacked?
Meanwhile, when Roxy visits Paul's hospital room, she makes a SHOCK claim in front of policeman Mark Brennan (Scott McGregor) about WHO else she saw at the scene of the crime...
Elsewhere in Erinsborough, there's still confusion, despite the DNA test results which prove lookie-likies Dee Bliss and Andrea Somers (both played by Madeleine West) are identical twin sisters.
Heather Schilling (Kerry Armstrong) has no recollection of giving birth to twins. So under the observation of doctors Karl Kennedy (Alan Fletcher) and Beverly Robinson (Shaunna O'Grady), Heather agrees to hypnosis to see if she can remember what really happened the day she gave birth.
And then the plot thickens, when Sister Grace (played by one-time Blue Heelers star Julie Nihill), aka the red-headed nun, turns up in Erinsborough to solve the mystery of Andrea/Dee...
Neighbours continues weekdays at 1:45pm and 5:30pm on Channel 5
Get the latest updates, reviews and unmissable series to watch and more!
Thank you for signing up to Whattowatch. You will receive a verification email shortly.
There was a problem. Please refresh the page and try again.