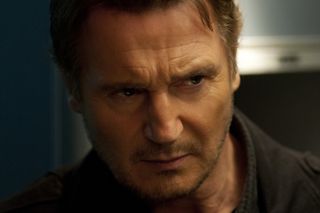 (Image credit: Myles Aronowitz)
Liam Neeson is in top action-man mode in this full-throttle airborne thriller. 4/5 stars
The film lives up to its title in spectacular style as Neeson's whisky-soaked air marshal quickly finds his fighting spirit when a blackmailer on a flight from New York to London threatens to kill a passenger every 20 minutes - unless $150million lands in a secret account.
Problem is, all the signs are that Neeson is the culprit and he has his hands full not only with finding the real villain but with convincing people it's not him…
Ideally cast Neeson gets top-flight support from Julianne Moore and Corey Stoll, as enigmatic fellow passengers, and Michelle Dockery and Lupita Nyong'o, as plucky flight attendants.
A stratospherically preposterous but absurdly enjoyable mix of whodunit, ticking-bomb suspense and turbulent action.
Get the latest updates, reviews and unmissable series to watch and more!
Thank you for signing up to Whattowatch. You will receive a verification email shortly.
There was a problem. Please refresh the page and try again.