Old People's Home for 4 Year Olds - Channel 4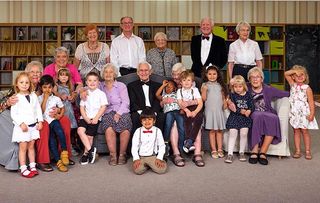 (Image credit: Joss Barratt)
Old People's Home for 4 Year Olds returns to follow a three-month experiment at a retirement home on the outskirts of Nottingham, with ages of participants ranging from three to 102
Old People's Home for 4 Year Olds returns to follow a three-month experiment at Lark Hill retirement home on the outskirts of Nottingham, with ages of participants ranging from three to 102.
The first run of this life-affirming experiment was one the small-screen highlights of last year, and we guarantee there will be smiles and tears all over again in this second series.
A Nottingham retirement village is playing host to a nursery for three months to see if the children have a positive impact on their older classmates' physical and mental health.
While some of the elderly residents quickly bond with their new little pals, as they head out for a trip on the local tram and prepare for a party, Dunkirk veteran Victor is holding back and reflects wistfully on his loneliness since the loss of his wife and his old 'shipmates'.
Let's hope the kids can win him over…
TV Times catches up with two of Lark Hill's residents, former magistrate Pauleen Davies, 91, and retired secretary Beryl Poulson, 85, who tell us how taking part in the show has changed their lives…
What was the appeal of the experiment for you?
Pauleen: Well, you don't get many new experiences at going on 92, do you? I liked the first series very much and I have always loved children. I used to run a daycare centre for the elderly and I know how much loneliness and boredom can occur in old age.
Beryl: I'd seen the series before, too, and thought it was a lovely idea because I saw how the elderly people changed for the better and became more sociable and happier and how the youngsters enjoyed it as well, so I jumped at the chance.
Are there any children you have particularly bonded with? Pauleen: I've formed a nice friendship with a little girl called Lois and a lovely little boy called Ismail has attached himself to me. Ismail loves to push my walker around and get it parked for me. He is a delight and so caring and very special to me. We'll miss the children – it will feel tame going back to our ordinary lives.
Beryl: Scarlett and I have become close – she comes in and jumps on my knee every morning. Unfortunately, her mother has passed away, but I've met her dad and her gran and I'm going over for tea. When she went on holiday, apparently she didn't stop talking about me all week!
The full feature is available in this week's TV Times on sale 2 October.
TV Times rating: *****
Get the latest updates, reviews and unmissable series to watch and more!
Thank you for signing up to Whattowatch. You will receive a verification email shortly.
There was a problem. Please refresh the page and try again.