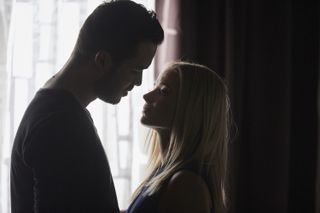 Uh-oh! Olivia sleeps with Axel...
Desperate to fix things, Olivia chases after Axel to explain that she didn't mean to break her contract. Hunter tries to intervene and tells Axel that Olivia doesn't need his label, but Olivia tells him to back off. As Olivia fights for her job, some of Axel's accusations don't add up and it becomes clear that Hunter is behind everything.
Olivia is livid and tells Hunter to stay away from her. She goes off with Axel to explain things and while Axel now believes Hunter was behind her meeting with rival label, The Trend, his boss won't see it that way. Olivia is upset and accepts her career is over. Axel comforts Olivia and the pair end up sleeping together…
Also, Maggie is annoyed with Ben for not putting up the gazebo. Ben retorts that he will make faster progress if he has an extra pair of hands. Maggie takes Ben's words on board and convinces Brody to help Ben. Will the two men be able to bond for Ziggy?
Get the latest updates, reviews and unmissable series to watch and more!
Thank you for signing up to Whattowatch. You will receive a verification email shortly.
There was a problem. Please refresh the page and try again.