Paddy and Rhona's wedding day bust-up with Marlon!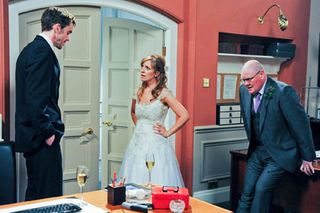 So, Paddy finally gets around to making an honest woman of Rhona which means Edna can stop tut-tutting about how they were living in sin - and with a child! Oh, happy days! Except Paddy's a bit blue because it looks like Marlon won't be at his wedding. It's Chas who acts as Paddy's best man (well, she's a Dingle and they can be anything they like, all right?) and gets him to the church, where Rhona is waiting. The ceremony goes ahead and Paddy and Rhona happily say their 'I dos', then Marlon turns up and he wants to say 'I don't'... Charity's making her presence felt at Carl and Jimmy's business. The brothers are not looking forward to working with her but how does Edna feel? Well, that doesn't really matter to Charity as she thinks the business can't afford Edna any more. Now, who do you think is going to tell Edna? Master Carl or Master Jimmy... Dan thinks because Chas dated Paddy she'll date him - but Paddy has a sense of humour and an awkward charm and he's got brains (even if he does only use them at work). Bob tries to tell Dan that Chas is out of his league, but Bob doesn't know that Chas's cheating with Cameron has relegated her to the lowest of low leagues, where the likes of Dan play... *Second episode* It was difficult for him, but Marlon managed to keep his mouth shut during Paddy and Rhona's wedding ceremony. He can't keep quiet at their reception at Home Farm, though. Taking the happy couple into a side room Marlon tells Paddy and Rhona his plans - and they don't involve toasting their happiness and waving them off to New Zealand with Leo. No way. Marlon tells the newlyweds that he has applied for a court order to keep Leo in Emmerdale! Now they can go and choke on their cake and champagne. Jai nearly chokes when he finds out Rachel is telling people she's pregnant. Why would she do that?! Well, because she can. It's Jai who doesn't want anyone to know about the baby, not Rachel...and she doesn't want him to keep it a secret. She is determined that he will tell Charity that she is having his baby. She'd just better hope he rewrites his will before he does. Charity, meanwhile, is rewriting the way the King brothers will do business from now on and Carl is sneakily impressed by her. Ha! That won't last when Carl finds out Charity isn't going to stop at owning 20 per cent of his business... She wants the lot!
Get the latest updates, reviews and unmissable series to watch and more!
Thank you for signing up to Whattowatch. You will receive a verification email shortly.
There was a problem. Please refresh the page and try again.